Cryptocurrencies are very interesting to follow. Not only because it's the future of payments but also because it's still in relative early stages.
If you look at the average altcoin website you'll find a technical website filled with jargon and without a clear unique selling proposition. You'll be lucky to find a technical whitepaper and a link to the BitcoinTalk page. It's certainly not targeted towards the 'beginner' in the crypto world and instead to other developers and power users. Plenty of room to improve in the coming years if you ask me.
This also shows in the choice for top level domain names. While most business would rather change the name than register an .info this is not uncommon for cryptocurrencies. To see if there are some more uncommon TLD's in the crypto world I put together a list of the most popular extensions based on coins found on CoinMarketCap.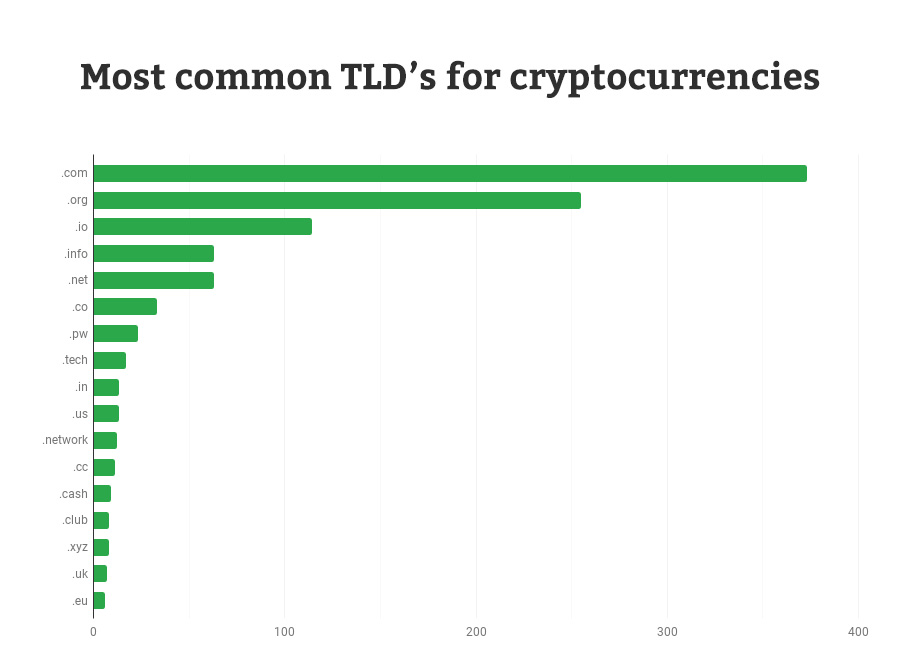 Of the in total 1157 currencies the most popular top level domain is unsurprisingly .com closely followed by .org. The .io TLD is also quite common and .info is tied to fifth place with .net.
Noticeably are also .pw, .network and of course .cash. You can see the top 20 in the table below or download the complete list as CSV.
| | |
| --- | --- |
| Top level domain | # |
| com | 373 |
| org | 255 |
| io | 114 |
| info | 63 |
| net | 63 |
| co | 33 |
| pw | 23 |
| tech | 17 |
| in | 13 |
| us | 13 |
| network | 12 |
| cc | 11 |
| cash | 9 |
| club | 8 |
| xyz | 8 |
| uk | 7 |
| eu | 6 |
| ly | 5 |
| online | 5 |
| space | 5 |